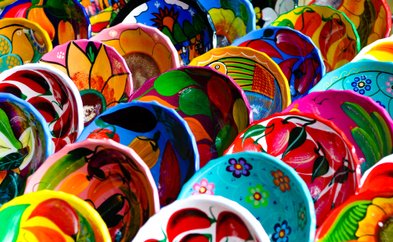 Tepoztlán is one of the most attractive towns in Mexico due to its natural and archaeological attractions, its cultural and gastronomic traditions, as well as its picturesque streets and rich canyons that make it
distinguished globally.
In the historic center is the church and convent of La Natividad dating from the 16th century, whose monumentality accounts for the importance of Tepoztlán when the Spanish arrived, which is why it was designated a World Heritage Site by Unesco in 1994 Inside you can admire the architecture of the time with its courtyards and halls, as well as original wall paintings and a museum
that graphically explains thenatural and cultural
importance of Tepoztlán.
On weekends an open-air market is formed that offers all kinds of crafts, clothing and traditional objects, which is a delight for national and foreign tourists. In addition to the food market, famous for the variety of fresh and regional products, as well as the best Mexican snacks, there are exclusive shops, art galleries and the Carlos Pellicer Museum that integrates an interesting collection of archaeological pieces.
Two days is hardly enough to know
Tepoztlán ...
Tepoztlán is in the vicinity of such important archaeological sites as Xochicalco and Chalcatzingo, as well as the city of Cuernavaca and the Teopanzolco archaeological site. Just 8 kilometers from Tepoztlán is the town of Amatlán and in Centeopan, the mythical birthplace
of Quetzalcoatl.
Tepoztlán keeps a perfect integration of Indigenous and Spanish traditions, reflected in its magnificent festivals and Pre-hispanic and colonial monuments, as well as in the very shape of the urban grid made up of different neighborhoods, each with its own church and traditional authorities, in charge of
keep the organization of the celebrations and
the old ways.